The Perfect Bridal Accessory: Headpieces and Veils
The everlasting looks of headpieces and veils will finish off your wedding day look.
Headpieces
Adding a special piece to your hair can make a huge difference. If you are considering any hairdo from a effortless up-do, soft waves, romantic ponytail, or even textured and twisted styles, the perfect head piece will give your look extra elegance.
The perfect headpieces feature a variety of floral designs. You can choose from a headpiece that wraps around just like a tiara or a smaller half piece that will fit perfectly into your hairstyle. The great thing about headpieces is that you can choose a more subtle design or a more exaggerated one. A lot of headpieces can also be combined with a veil as well.
 Multi-tier Veils
Princess Diana stunned with her veil that was over 25-feet long in her wedding almost 40 years ago. Next up was Kate Middleton with a more toned down veil, but still one that shined with a sequence of embroidered design at the end of her veil; and of course Meghan Markle who dawned a 16-foot veil with embroidered design to honor the late Princess Diana.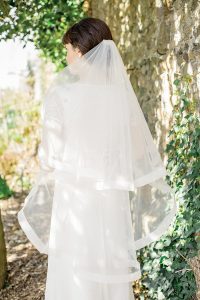 Princess Diana, without a doubt, started a trend that will be timeless. Celebrities like Ximena Navarrete, Priyanka Chopra, and Maria Menounos all showed off beautiful, long wedding veils at their nuptials.
Embellished Veils
Designers love playing with new ideas and the newest idea in bridal fashion is a pretty and unique veil. Simplicity is out and that is why we love veils embellished in crystals, flowers, or even pearls. Take a simple, one layer veil and make it pop. Any bride that wants to complete her look and wants a veil to make a statement without the extra length should consider embellishing her veil to make it extra special.
– By Sandra Reyes