Perfect Make-Up Palette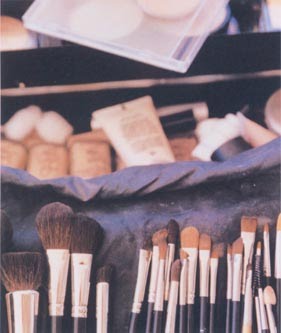 Perfect Make-Up Palette
By Gloria Guevara
You are going to look fabulous with these bridal makeup tips, but remember to stay true to yourself, and don't overdo it. The goal is to enhance your beauty, and not look like a complete stranger in photos . . .
◈ Have your eyebrows arched 3-5 days before the wedding. You may experience some redness after the procedure, and that can be difficult to cover up with concealer.
◈ I always recommend applying a little more eyeshadow and blush (not too much) because the flashbulb from the camera can soften your look in photos. The result will be more natural than you originally had that day.
◈ For lasting lips, use a lipstick with a matte finish. For a more glossy appearance, use a lipstick as the base, then apply a lipgloss on top.
◈ For lipsticks with a satin or luster finish, apply a light layer of powder over the lipstick first, then complete with another layer of lipstick. This is another excellent bridal makeup tip to achieve lasting lips.
◈ If you are applying your own makeup, schedule a trial-run with a beauty consultant and purchase your products at least 2-3 months in advance. Make sure he/she provides very detailed instructions about the application methods, and practice, practice, practice!
◈ Don't forget the waterproof mascara for those weepy eyes!
◈ Keep your powder and lipstick in your purse in case you want to freshen up later in the evening.
◈ If you get a few pimples on your wedding day, just apply Visene (to get the red out) and cover it with a little bit of concealer afterwards. Don't go overboard with the concealer because it can result in a very cakey appearance.
◈ It is a good idea to wear a button-down shirt before applying your makeup to avoid ruining the look later on. When slipping into your wedding dress, place a plastic shower cap over your face so that you don't get makeup on your dress.
◈ Avoid shimmery and glittery looks – these looks do not photograph well because they will leave you with a very shiny appearance.
◈ For brighter eyes, line the inside of your lower lids (waterline) with a white pencil. This is one excellent bridal makeup tip!
◈ For a look that photographs well, wear a "matte" look in natural tones, and try to avoid trendy looks because they go out of style fast. Don't wear frosted eyeshadows, because they appear too bright in photographs.
◈ If your wedding is in the morning, go for a more natural look. Evening weddings usually require warm and darker colors, but don't go overboard. Sensuality is the key!
◈ If your skin has a slightly green cast in the winter, a bronzing powder will give you a warm, tanned look. Don't forget to apply some color on the apples of your cheeks. Remember rosy colors — not oranges — work best in counteracting the green cast.
◈ Many Latino women naturally have a beautiful dark color to their lips, so deep lipsticks and softer colors look quite lovely.