Las Vegas: A Honeymoon of Many Adventures
You want romance you want excitement, well Las Vegas is your wedding and
honeymoon destination. We have reviewed a wide variety and some of the best
experiences in this city for the couple looking for something different. For your
honeymoon or even a destination wedding, you will be pleasantly surprised to what
awaits in Las Vegas.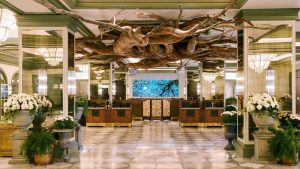 Las Vegas Newest Hotel & Casino: Park MGM
When in Vegas, you want to experience the newest in the city and Park MGM is your
place to stay. The hotel's design is inspired by urban parks and gardens, which you see
and feel when you step inside and see their grand entrance. Each room is newly renovated
with an option to upgrade to a Stay Well Room or Suite providing you with a better rest.
The luxury hotel NoMad, an aesthetically pleasing European-style hotel, is located inside
the Park MGM for those couples wanting to indulge in their accommodations.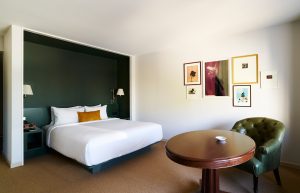 Unwind at one of the three pools and if seclusion is what you are looking for splurge in
your very own private cabana. You could also party on the weekend when The NoMad
Pool transforms into JEMAA, the NoMad Pool Party. Here you will also find a fitness
center for keeping up on your workout and The Spa where you can get some relaxation.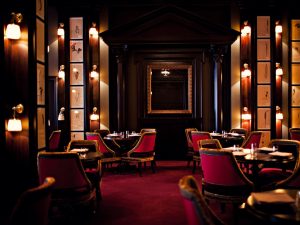 Fine dining abounds here, from their restaurant the Primrose, where you can enjoy
brunch meals and all-you-can-drink sparkling rosé way into the evening hours to the
infamous Eataly, which is comprised with over a dozen authentic Italian eateries. For
dinner we recommend the NoMad Restaurant, a restaurant inspired by the iconic
Library of NoMad New York and for drinks you must not miss The NoMad Bar located
right next door.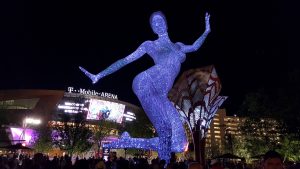 Enjoy all the upcoming Las Vegas entertainment at the Park Theater with unbelievable
residencies Lady Gaga Enigma + Jazz & Piano and Janet Jackson Metamorphosis and
concerts from the one and only Cher to name a few. This new hotel and casino is next
door to the T-Mobile Arena, where you can enjoy championship boxing and Vegas
Golden Knights hockey games for the guys or concerts from mega-stars like Jennifer
Lopez.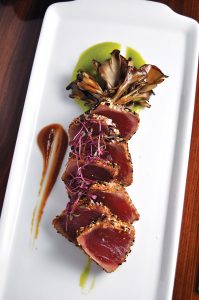 Dinner at STK at The Cosmopolitan
The ultra-modern contemporary steakhouse, STK, offers mouthwatering steaks along
with traditional sides like mac and cheese and asparagus, but with a non-traditional twist.
Named one of the best steakhouses in America, even their blue cheese bread is one you
will not be able to stop eating. Varying from steaks to cocktails to desserts and their sexy
vibe created by the in-house DJ, STK is definitely on top of our list!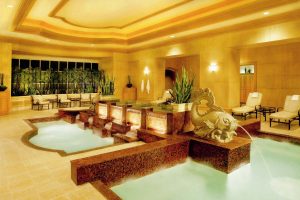 Romance In Las Vegas
When on your honeymoon, there is nothing you would rather do than enjoy romantic
experiences with your significant other and Las Vegas offers some of the best ones! What
better than a spa treatment to get you relaxed and in the romantic mood. Las Vegas has a
multitude of spas, and we will tell you our top picks. We were nicely surprised to find the
Spa at The Linq, a full service facility with whirlpools and eucalyptus steam rooms that
offers several types of massages and body treatments, as well as facials. They have a
couples' room and offer By My Side Packages and one of their unique amenities is the
Himalayan salt therapy cave that you can enjoy before or after your treatment. Another
great spa is in the Mandalay Bay, the Spa Mandalay, just walking in and you will be
transported to a more relaxed state of mind. They also have heated whirlpools and
eucalyptus steam rooms, as well as redwood saunas and customized couples' massage.
You can also pick from their signature body treatments, such as the Hydration Face &
Body, a deeply hydrating full body exfoliation wrap with a customized facial to look and
feel ravishing for that romantic night out. It is hard to say which spa is the best but we
recommend, at least once while in Vegas to indulge in a body treatment or at least a day-
pass to the award-winning spa, Qua Baths and Spa, in the Caesar's Palace. An elevated
spa experience that includes three Roman baths, a snowing Arctic Ice Room, official
Nobu brand treatments, and seasonal treatments.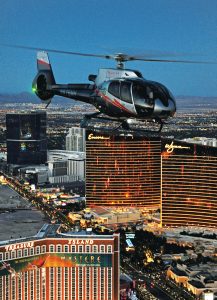 Take romance to another level with a helicopter excursion, Maverick Helicopters offers
extraordinary tours over viewing the spectacular Vegas strip, enjoy the night tour where
you can really appreciate the Vegas neon lights. Better yet, take one of their Grand
Canyon tours, for an unforgettable experience overlooking the spectacular natural marvel
and even landing inside on a private bluff for an up close look.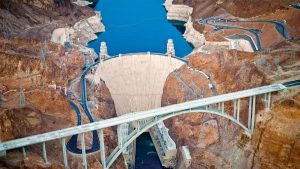 While soaring above in the sky is not your thing, then you might want to check out the
Hoover Dam Postcard Tour. Get an exclusive view of the dam on a river raft and learn
historical facts while getting unique views of the dam, the power plant, and Black
Canyon.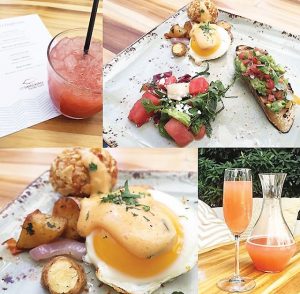 Of course you cannot forget your romantic dinners and with so many restaurants to
choose from, where do you begin, well that's when we recommend Lip Smacking
Foodie Tour where an endless culinary adventure awaits, they offer several tours, such
as the Lip Smacking Boozy Brunch, the Downtown Lip Smacking Tour and the Savors Of
The Strip. You'll be able to indulge in various dishes as well as signature drinks from the
top restaurants in Vegas! They even offer, Savory Bites & Neon Lights, first-class dinner
at four of the hottest restaurants before boarding a helicopter ride. Need I say more!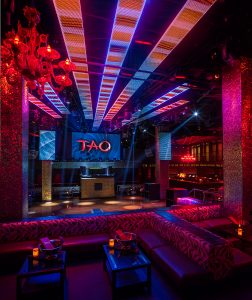 Glitz and Glamour In Las Vegas
Las Vegas boasts one of the best nightlife in the world and you will find top-notch bars,
lounges, and clubs. One that tops our list is the restaurant and nightclub TAO. The glitzy
restaurant side specializes in Asian cuisine. Located inside the Venetian and the Palazzo,
here you can enjoy delicious Asian entrees such as sushi and sashimi, dim sum and shabu
shabu dishes. After dinner, walk on over to the nightclub side where renowned DJs spin
the hottest songs.
We recommend the restaurant CATCH inside the Aria Hotel, one of the trendiest
restaurants that are celebrity renowned and offer a myriad of Asian-inspired sushi,
seafood and steaks with unique craft cocktails. They have a lively atmosphere that will
make you want to stay way past your dinner is finished! Leave room for their "Hit Me"
chocolate cake.
Inside the modern and glamorous Cosmopolitan, the Chandelier Room is the place to
go. With three stories of beautiful chandelier rooms and endless alcoholic beverages such
as Whiskey Business, Finishing School and many others sophisticated handcrafted
cocktails you are sure to enjoy yourself with your significant other. Another bar to
explore at the Cosmopolitan is the Ghost Donkey. This speakeasy may be small and
hidden, but it offers a variety of tequila and mezcal, you can drink it alone or one of their
signature drinks with flavors like pineapple and habanero hibiscus. The bar is also known
for their truffle nachos topped with chorizo, mushroom, and tripe.
There is nothing more glitzy and glamorous than an amazing view of the city. The
Skyfall Lounge at the Delano has amazing views of the strip while you can enjoy a
handcrafted cocktail. The lounge has a laid back atmosphere with easygoing tunes and
eclectic beats to go along with the vibes.
Broadway is coming to Las Vegas! Now you don't have to take a six-hour flight to see
some of the best shows in the world! You can go to Vegas and see them at the Smith
Center. Classic musical hits such as Wicked and Anastasia are just a few shows that
will be headlining at the Smith Center.
Lunch at SPAGO at The Bellagio
Renowned chef Wolfgang Puck founded this restaurant in 1998, and since then it has
been a huge success. Culinary creations are born at Spago, where you can find multiple
creations such as handcrafted burger sliders, pasta entrees, pizzas and delectable salads.
What's even more spectacular about Spago is that you get to have a view of the infamous
water show at the Bellagio. Way to set the tone for a romantic outing.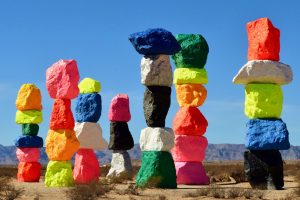 Only In Las Vegas
There are several experiences you can have that you will only find them in Las Vegas,
and one you should not miss is a visit to the Las Vegas Sign. It is a pop culture landmark
that never disappoints and attracts so many people around the world. Drive a little further
down the I-15, and head over to the Seven Magic Mountains. They're not literal
mountains, instead they are a brightly colored installation of desert artwork that are
totems resembling rocks. These both locations are perfect for your honeymoon
Instagram-worthy pictures.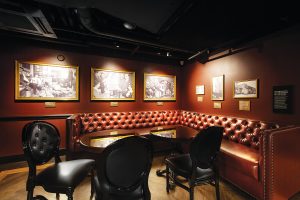 Vegas has had a history of infamous mobsters and only here will you find a museum
dedicated to organized crime and law enforcement, plus the history of how Las Vegas
became the city it is now. The Mob Museum is located in Downtown Las Vegas and
have vintage footage and videos, plus a crime lab experience, as well as a speakeasy
designed like those of the 1920s Prohibition era. There is also a whiskey distillery exhibit
on display for those who are interested in learning about the methods that people used to
get their liquor fix during the Prohibition era. You can even enjoy 1920s-inspired spirits
and cocktails.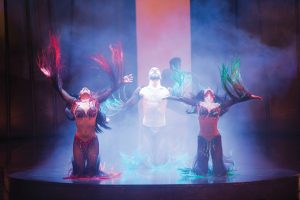 Of course you can't complete your Vegas experience without checking out a show or
two. The renowned Cirque du Soleil has a variety of shows that everybody can enjoy,
such as Zumanity, which shows the seductive side of Cirque du Soleil. Part burlesque
and part cabaret, Zumanity will unleash your inner sensual self. Another show not to
miss is O at the Bellagio a water themed stage production and has been rated as one of
the best things to do while in Vegas.
The entertainment in Vegas is never ending and with so many residencies to choose
from, it is hard to pick just one. Artists such as Mariah Carey, Celine Dion, and Bruno
Mars, to name a few, have made epic appearances with show-stopping performances.
We hope we enlightened you and guided you to a Las Vegas honeymoon you will never
forget!
– By Jess Jiménez / Verónica Guevara