Bachelor Party Basics
When your man still wants his bachelor party, what is a woman to do? Oh no! Did he really say he wanted a bachelor party?
You're not alone when those two simple words immediately conjure up images of your drunken fiancé surrounded by scantily clad women. Most brides-to-be would rather plan 100 weddings than deal with their fiancé's bachelor party. Calm down and give your beloved a little credit – you are marrying the guy, so you must trust him. Bachelor parties are not always as bad as the horror stories you've heard.
Communication and some simple boundaries goes a long way
Instead of running to the best man and demanding for the party to be called off, sit down with your fiancé and talk about your feelings, your fears, and your concerns. If the thought of your husband-to-be watching a roomful of dancing girls the night before your wedding night makes you feel a bit betrayed – let him know. Ask him what the plans are for the night and discuss some limits and boundaries that would make you feel more comfortable. The bachelor party may be nothing more than a few guys, a couple cocktails and beers, and some action movies rather than girls and crowded bars.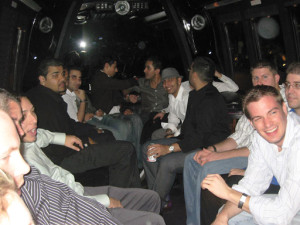 Overcoming the Bachelor Party
If you're still not comfortable with the idea of a bachelor party, there are a few alternative options that will keep everyone happy.
Couple's Getaway. Weekend bridal party getaways are becoming quite popular with modern couples. Plan a bachelor and bachelorette weekend at a favorite destination. Schedule individual activities for the girls and the guys, as well as events for the entire group.
Groom's day out. An afternoon ball game, a day of paint ball, or a weekend fishing trip all sound more acceptable than a traditional bachelor party and most grooms prefer these tamer gatherings.
Couple's Party. Skip the bachelor and bachelorette parties and opt for a fun couple's party with your closest friends. Dinner cruises, lake parties, and casinos make ideal locations or you could plan a simple barbecue.
You shouldn't have to drive yourself crazy trying to deal with the thought of your fiancé at a bachelor party. If it truly bothers you, discuss an alternative with your future husband and he will more than likely respect your wishes. If the bachelor party must go on – remember that they're usually not as bad as what you've seen on TV, then call up your bridesmaids for a girls' night out!
-By Joe Dominguez