Your Wedding Venue: A Place Where Memories Are Born
What could be dreamier than getting married to the sounds of the ocean or the fresh smell of bright green grass? Beach wedding and outdoor weddings will offer you the most beautiful sceneries to your already perfect day. Whether it's a destination wedding or something closer to home, there are plenty of opportunities for your perfect wedding venue.
Beach and Lake Front Venues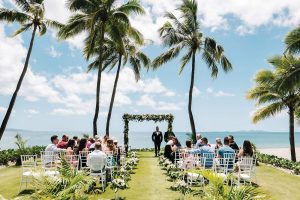 Imagine yourself standing at the alter with your hubby sharing your very first newlywed kiss with the sun setting right behind you and the warm breeze; a moment that would live on forever with anyone who witnesses it. Amazing, right? Well that could be your moment if you choose to host your wedding at a beachfront venue. Beachfront wedding venues offer a variety of options. You can find locations that have private beach access for a ceremony on the sand and if you choose not to get your toes sandy, venues offer event lawns and even decks for your ceremony. Some venues also offer indoor ballrooms for your ceremony and reception as well.

If you don't live near a beach but don't want to necessarily have a destination wedding, don't worry there could be another option for you. Lakefront weddings, just like beachfront weddings, can be front and center of a beautiful backdrop of water, or even forest settings or the view of mountains from afar, and not to mention the sunset. Lake front venues will also offer beautiful clubhouses for your ceremony and reception. Your guests will enjoy the views and enjoy a fun night all in one. Let's not forget to mention the beautiful photo opportunities that either of these venues will have for you.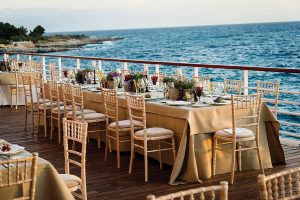 Let's take an oceanfront venue to the next level. How about getting married on the ocean? Cruises offer tons of wedding packages! It may sound a bit crazy but hey, live a little. Wedding packages on cruises can include special treats for you, your sweetheart and guests! All things considered, if you are an ocean lover, this is the ideal venue. Also, why not enjoy the rest of the cruise as a beginning to your honeymoon.
Ocean and lakeside venues are sure to be a beautiful experience with the sun warming your skin and the breeze blowing through the air. You and your guests are sure to have the time of your lives in an unforgettable way.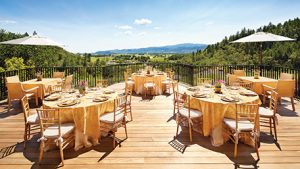 Outdoor Wedding Venues
If you're not a fan of the ocean don't worry, we've got you covered. If you're like me, you enjoy a nice glass of wine and a peaceful ambience. Wineries offer just that.
The great thing about wineries is that you can choose what kind of ambience you want for your wedding. Whether you want your venue to have a more rustic, vintage look or a more modern look, you can never go wrong with a winery as your choice. What are other great things about these venues? Well, if you would like to have a nice touch of the sun and the breeze, winery venues can be your choice with indoor or outdoor spaces available, or include both. Why not host your ceremony in a beautiful set up with the miles and miles of vineyards as a backdrop. What an incredible photo op!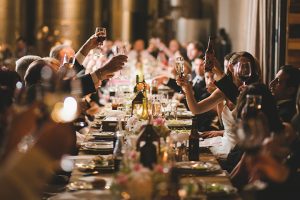 Just like wineries and their fields of green, Golf Clubs also offer a great deal of nature for your wedding. Golf Club weddings are the most ideal if you are looking to not travel far for your wedding. Some golf courses also have mini lakes so you can have some water but not too much.
Golf Clubs are a more traditional route to go in. The venues are spacious for all of your guests, offer a great view, and of course your photographer will love all of the great places to capture your moment.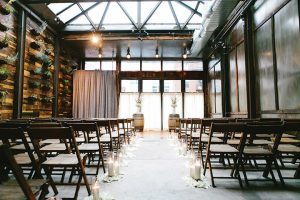 Something great about these various options of wedding venues, especially the outdoor ones is that you have the chance to reduce your carbon footprint. So now you are enjoying your wedding at a beautiful location while helping the planet. Regardless of where you choose to host your wedding, it is sure to be a beautiful adventure.
– By Sandra Reyes