Accessorizing For Your Big Day
You finally decided on your ideal dress, you love the style and it makes you look great, but how can you accessorize and complete the whole look? Here at LBG, we consistently look for the latest looks and accessories are perfect to adding your unique touch.
Necklaces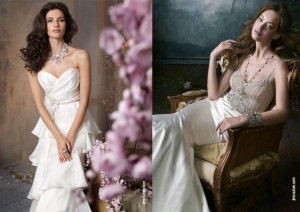 Add a necklace to enhance your décolleté and emphasize your personal style, for a strapless dress style a smaller necklace or choker complements well. A longer necklace works best on spaghetti strap dresses, see these styles from jlmcouture.com. Avoid using necklaces on high neck dress styles and dresses with an intricate neckline, go for a headpiece instead.
Hairpieces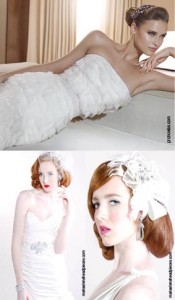 Just as mentioned hairpieces are perfect finish touches to elaborate dress styles and they also add a special detail to your hairstyle. Plus, it is a great way to complement certain dress details, such as rhinestone motifs or lace patterns. Instead of the traditional long veil, you can use this small veil style from Maria Elena Headpieces, see bottom right image above. This same style shows the headband worn as a belt.
Check out our Accessory Vendors to help you with your bridal accents!