8 Ways To Save On Your Honeymoon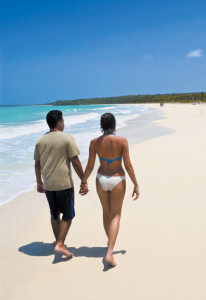 Very excited because I just went all over the southwest to find the best places for a memorable honeymoon, here in the United States. Check out the article in our next issue of Latino Bride & Groom. Since I am in honeymoon mode, I decided to give you some pointers on how to save for your first trip as husband and wife.
1. Plan well in advance to get the best deals. Particularly right now with the way the economy is, there are deals out there which are very, very good, but you have to know where to look for them. And, as soon as you see them, jump on them.
2. Travel agents can suggest lower-priced alternatives, for example instead of a Caribbean honeymoon they might suggest a Mayan Riviera because of the savings in airfare.
3. Exercise caution with online booking. You have to be diligent to find online deals, since these can come and go quickly. Many "deals" are just teasers to lure you to a site. If you book, make sure you get what was advertised.
4. Avoid peak periods such as summer vacation, spring break, and holidays. Airfares and accommodations are greatly reduced in the offseason. Save on airfare by traveling Monday through Thursday.
5. Consider all-inclusive resorts or cruises.
6. Honeymoon close to home, hence my article on the beautiful southwest.
7. A honeymoon registry can help finance your trip. You might want to shorten your wedding registry and include your honeymoon registry as an option.
8. A scaled-back honeymoon is better than no honeymoon. "It is nice to have a honeymoon, because once you start your life together, there's too much that can get in the way: jobs, kids, obligations," said Ana Garcia, wife and mother of two. "A honeymoon is a lovely start to your life together."
Check out our honeymoon specialists!