Fall's Best Trends: Engagement Ring Tips
With today's ever-changing trends buying "the ring" proves to be the most complicated part for grooms, especially if you want to surprise your future fiancée. The following are some great tips to keep in mind before buying that special ring for the girl of your dreams.
Fall's Best Trends
First keep in mind the shape that your fiancée loves, before purchasing the ring. To help you out, we got the latest trends from James Allen, a company that specializes in engagement rings.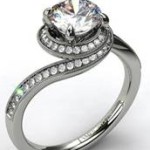 Swirl Engagement Rings

– While most engagement rings have a simple band, swirl engagement rings have a band that appears to be swirling around the diamond. Most famously, Jennifer Aniston wore a swirl engagement ring from Brad Pitt.
Split Shanks or Multiple Row Pave

 – these engagement rings are becoming increasingly popular, as they add an unexpected element to a band. Pave has been a popular choice for the past decade or so while multiple rows of pave is a relatively new trend. Many women pine over Beyonce's 20-carat diamond that sits on a split shank band.
Engraving

– this is among one of the latest engagement ring trends. Engravings tend to make rings look antique or vintage-inspired, as opposed to sleeker, more modern designs. Engravings vary depending upon the ring design – some engravings are subtle, while others are more intricate and detailed.
Double Halos

– If you're looking for an extra flashy ring, double halos are the way to go. Halo rings are designed to surround a center stone, which helps make the entire ring look larger. A double halo intensifies this effect, making it an appealing choice for many engaged couples.
The Basics
Always remember the 4 Cs-Cut, Color, Clarity, and Carat. The cut is very important, as this will determine the brilliance of the diamond, which equals more sparkle and this is a trait that women admire. The less color the better, this will give a better quality grade. Clarity is the simplest factor because the least imperfections a diamond has inside the higher quality grade. Now, carat refers to the weight of the diamond, but remember always stick to your budget. So, if your fiancée wants a larger ring, look into purchasing a larger surface as this will give the illusion of a larger diamond.
Don't forget the band. There are so many different types of metals nowadays, from the traditional gold to the modern and most popular platinum metal. Platinum metal is a great choice for sensitive skin, as it's a hypoallergenic. If you want to be more exotic in your choice of band consider palladium, or for those eco-friendly folks there is the option of buying a band that is recycled.
Final Pointers
When planning out the engagement proposal give yourself a six-week grace period, when ordering the ring. Sometimes even longer if you are having it custom made. Don't forget to tell your jeweler about that special inscription when placing the order and to find out about their return policy.
Lastly, do not forget to ask for a diamond grading report and certificate, especially if your ring is one-carat or larger. Associations, such as the GIA or the American Gem Society, generally issue this grading report.
Remember to surprise her, its always more fun and who doesn't love surprises!
Check out our Ring Gallery for more styles!
-Andrea Montoya