A Policy That Rings True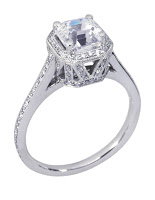 If you've recently gotten engaged, just like the other 10% of all couples that got engaged on Valentine's Day, you're probably busy starting to plan your wedding. Don't forget one important (I must add not as less exciting) task: insuring your engagement ring. Although your homeowners or renters policy covers your belongings, there are usually limits on certain high-value items. You can protect your ring (and other valuable items) by adding an endorsement to your policy that either increases the limit or insures a specific item.
To learn more contact your insurance company.