Get The Ideas: 6 Fall Wedding Trends
With every approaching season, new trends are sure to follow. From fashion to food, Latino Bride & Groom is here to inform you about sophisticated and fun trends to try out this autumn!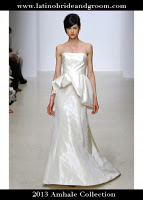 1. Perfect Peplums
Sleek and elegant, peplum dresses emphasize a bride's hips and waistline to create a curvier figure. Although those with a boyish figure are drawn to this dress, ladies of all figures are attracted to the modern vibe that peplum dresses give off. Brides-to-be can have fun with the ruffle, opting for either an even, tiered look or the bolder alternative of having it look jagged and off to the side. The ruffles can also be accented with lace or left along for a more minimalistic look. Check out our Bridal Gown Gallery for more ideas.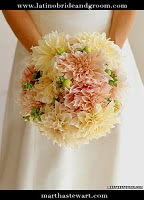 2. Daring Dahlias
Dahlias, the national flower of Mexico, are gorgeous flowers that bloom just in time for your wedding. Inexpensive and sold relatively anywhere, they come in all sorts of different colors that would complement any color scheme, from soft pinks to dark hues of red. They also come in a variety of sizes. Get large ones to make bold centerpieces, or miniature ones to make darling boutonnieres. Check out our Flower Gallery for more ideas.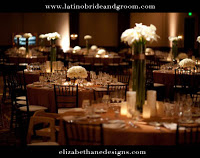 3. Bold Color Schemes
When people think of fall, they picture the colors of the changing leaves – red, orange, and yellow. Although those colors are tried and true, autumn is a time to start experimenting with other warm colors. Great combinations include brown and gold, white and chartreuse, or blending classic colors with vibrant ones, such as Kelly green with slate gray.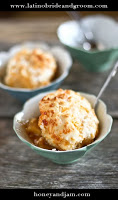 4. Intimate Dinners
Fall is when the weather starts to finally get a little chilly. Other also associate fall with Thanksgiving, a time for family to join together and fill up on comfort foods. Treat your guests with home-style foods to make them feel like they're sitting on the dinner table. Have some indulgent and familiar foods as appetizers, such as mini mac and cheese cups, and slices of warm apple cobbler. Anything that looks like mom just made it will fit the atmosphere perfectly.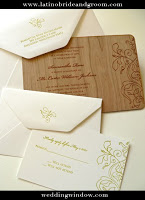 5. Nature Inspired Invitations
Take advantage of the nature changing around you by having nature-inspired invitations. Use wood paper to print your invites on. Adding lace or press-on leaves are charming accents. Finally, making your invites look handwritten resonates with your guests, making them feel like you spent time for their arrival. However, if you just don't have time for such detail, personal calligraphy stamps can be bought easily at arts and craft stores.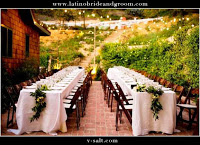 6. Rustic Arrangements
Join your guests together by having long, farm-style seating arrangements, creating an intimate setting and rustic feel. Tree, birch, and other bark-related decorations can give the illusion of being outside if you plan for an indoor wedding. Make the atmosphere warmer by placing cozy armchairs and comfy couches around the reception area and close to the dance floor for guests who want to relax.
What's your favorite fall trend?
– By Jenny Lu