Honeymoon Ideas: Top 5 Beach Destinations
Couples worldwide dream about having the perfect beach honeymoon. It's hard not to succumb to the allure of soft sands, gentle waves, and exotic flora and fauna. Latino Bride and Groom compiled a list of 5 of the best beach destinations to ease the pain of trying to choose from countless of destinations possible. Ranging from secluded paradises to bustling beachside cities, our picks have something for everybody.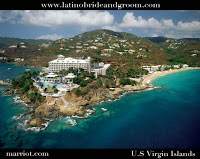 U.S Virgin Islands
With beaches that rival the finest, the U.S Virgin Islands allows U.S citizens to enjoy a hassle-free trip to the Caribbean's without a passport. Choose from three islands − St. John, St. Crioux, and St. Thomas. Each has unique features that offer different appeals to different people. For example, St. John is known for it's emphasis on natural beauty, with clear and shallow beaches perfect for snorkeling and kayaking. Enjoy a stunning sunset at the private beachside location, Gallows Point Resort. St. Crioux's features a more historic side of the Virgin Islands, with attractions such as the Christiansted National Historic Site. Experience colorful and memorable carnivals, such as the Crucian Christmas Festival, and end off your exhilarating day at Palms at Pelican Cove, which is well known for their hospitality and ocean view. If you're more attracted to the cosmopolitan lifestyle, St. Thomas boasts the most city life, with a wide-selection of shops and other activities, such as golf courses, an ocean park, and Magic Ice Gallery, the largest permanent ice gallery in the world. Enjoy a stay at the Frenchman's Reef and Morning Star Beach Resort, which has recently gone through a $48 million dollar renovation. If you have trouble deciding which island to go to, experience them all! They're all a quick boat or helicopter ride away from each other.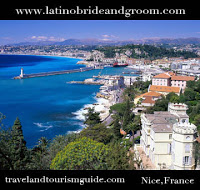 Nice, France
This honeymoon retreat is the perfect recipe for a romantic getaway. Brimming with culture and a bustling nightlife, topped off with long stretches of gorgeous blue-green beaches, and full of historic architecture that dates back from hundreds of years ago, Nice lives up to it's name and provides a wonderful myriad of things to do and places to see. Stroll around at Promenade des Anglais, a diverse blend of markets and stores that are dotted with several blue chairs that provide a place to relax and stare out into the azure sea, or explore Arènes et jardins de Cimiez, a historical paradise with charming olive groves and rustic amphitheaters. Dine at the Acchiardo, an authentic French restaurant that has the charm of being truly family-owned, with the mom and pop running the bar and the sons waiting tables.
Nice is not lacking in divine hotels, such as Palais De La Mediterranee, a charming contemporary luxury hotel, or Le Negresco, which is equipped with a wonderful seafront location. Wherever you stay, Nice's prime location mixes together the beauty of the sea, the excitement of the city, and the allure of the past into a great honeymoon destination.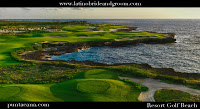 Punta Cana, Dominican Republic
Punta Cana is the ideal beach getaway. Because if its flat landscape, the weather remains consistent and beautiful, making it perfect for water sports, a popular pastime. Punta Cana offers a variety of interactive activities with the flora and fauna of the island, such as Manati Park, a haven for animal lovers that want to swim with the dolphins, ride horses, or play with parrots. For the bolder animal tamers, the Maniarium is a unique water park that allows you to snorkel alongside sharks and stingrays. Gorgeous views are around every corner, with several nooks and crannies hiding wonderful sights, such as Saona Island, a natural reserve that features powdery, white sand. For a little more action, the Bavaro Runners is a popular safari excursion that takes tourists to see the more natural side of Punta Cana.
Punta Cana is home to many developing and award-winning hotels and resorts, such as the Punta Cana Resort and Club, which has been awarded the 2011 Golf Resort of the Year and adorned with a world-class spa, perfect for any honeymooning couple in search of pure, blissful relaxation.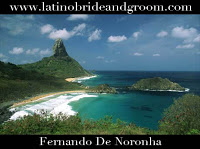 Fernando de Noronha, Brazil
A place of national pride, Fernando de Noronha is a nature wonderland and one of the best places if you're looking for a secluded, romantic honeymoon. An island near Sao Paulo, Fernando de Noronha is fiercely protected by marine biologists, naturalists and a Environment Protection Tax, this string of islands offers the most pristine beaches teeming with flora and fauna, such as wild spinner dolphin, who come in the hundreds daily, and a variety of common sharks, all of whom are friendly. The life above and below the sea proves to be one of the main attractions, from swimming with sea tortoises, to spotting intimidating barracudas. Explore all this in a three-hour round trip by boat, a perfect way to start out your honeymoon. Stops include a 40-minute snorkeling session at the astounding Baia do Sancho and a tour of stunning rock formations that will captivate your imagination.
People come for the picturesque environment, and they stay for the divine and pure atmosphere that the beaches have to offer. Fernando de Noronha offers several divine places to stay, such as Pousada do Vale, Pousada Marvilha, and Pousada Zé Maria.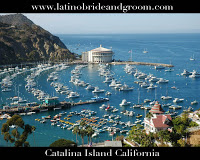 Catalina Island, California
If you want to save on travelling expenses but still want to experience the thrill of visiting unfamiliar beaches, then catch a quick boat ride to Catalina Island, which is a mere 22 miles from the coast of Los Angeles. This island is a center of a large variety of water-related sports, such as diving, snorkeling, kayaking, ocean rafting, and sport fishing, just to name a few. However, the fun doesn't end at the water. Catalina Island also features zip lining, tours in hummers, jeeps, or helicopters, golf, and even a ghost tour through Avalon, which was built on burial grounds. Catalina also boasts several endangered species, such as the Island Fox, bald eagles, and American Bison. The Catalina Island Museum displays over 7,000 years of Native American history, making this trip an educational one as well.
Catalina Island has several quaint bed and breakfasts, as well as numerous beach-house style hotels, such as the Hermosa Hotel, which provides guests with adorable cottages. You can make Catalina Island an action-packed destination with never-ending fun-filled activities, or you can make Catalina a luxurious and quiet beachside getaway. Whatever your heart's content, you'll find it at Catalina.
– By Jenny Lu