Top 5 Trends From Bridal Week
Bridal week just finished in New York City and we have got all of the hottest trends straight from the runway. We have compiled the top 5 trends that we loved. Get inspired by all of these great styles and ideas!
Vera Wang
1. Off-white dresses – We tweeted about loving Reese Witherspoon's pale pink wedding dress and now more designers seem to be breaking away from traditional white wedding dresses. Vera Wang caught our interest by showing a wide array of gowns ranging from pale green to muted purple to slate grey.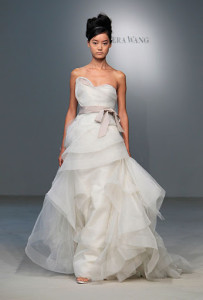 Vera Wang
2. Sheer Layers – One thing that we saw on the runway was a lot of tulle and sheer layers finishing the dresses. Vera Wang's dress was magnificent with its contrasting sheer layers and this over the simple sweetheart neckline kept the dress from looking too plain.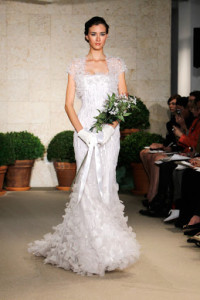 Oscar de la Renta
3. Scallop Layers – Dresses from bridal week took our breath away with their intricate designs and delicate details. Oscar de la Renta's dress consisted of different types of details that complemented each other to create an elegant and feminine dress to remember.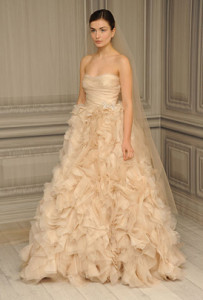 Monique Lhuillier
4. Soft Ruffles – Dresses similar to the ones Monique Lhuillier presented definitely grabbed our attention. The ruffles on a full skirt had us thinking of royalty whereas ruffles on a short dress reminded us of blooming flowers.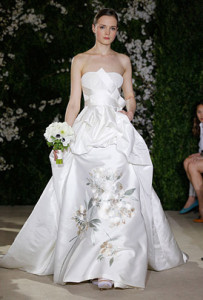 Carolina Herrera
5. Flower print/embroidery – Spring is here and designers incorporated the refreshing essence of the season into their fashion. The unexpected flowers embroidered onto Carolina Herrera's dress brought a bit of color to the all-white dress.
– By Lauren Ho