Top 10 Father Daughter Wedding Songs
With a bitter-sweet feeling in your heart, the time has come for your dear father to give you away to the man who will promise to cherish and love you for the rest of his life. But until then your father has been the only man in your life who has loved you unconditionally and has protected you from the day you were born until the day he no longer can. To many of us our father is our very own superhero and best friend in which we depend on to fix broken things, to talk about our problems, or to simply have a strong hand to hold.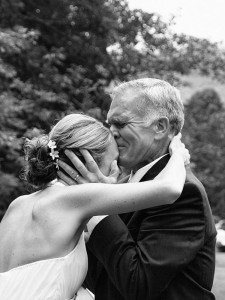 And on the day he gives you away, the song you and him dance to should be special, in which every memory you share with him will play in your heart and will transpire not only to him but everyone in the room.  We have come up with 10 heart felt songs and a small preview of the lyrics that can help you achieve just that!
1. Hija- by Abraham Velazquez
"Hija mia fijate que eres todo para mi
que te cuidate y te valore para que te haga feliz
hija mia escuchame te deseo lo mejor
y aunque se me rompa el alma te dare mi bendición"
2. I Loved Her First- by Heartland
"But I loved her first and I held her first
And a place in my heart will always be hers
From the first breath she breathed
When she first smiled at me
I knew the love of a father runs deep
And I prayed that she'd find you someday
But it still hard to give her away
I loved her first"
3. Princesas Magicas- by Jesus Adrian Romero
"Entre gimnasia y la tarea, van creciendo muy de prisa.
Hay hay hay.
Las quisiera detener,
Pero un dia se iran de casa y en sus cosas llevaran un pedazo de mi vida
que jamas regresara, mientras tanto quiero darles tantas cosas,
quiero darles tanto amor tanta atencion,
y enseñarles cada dia su importancia y su valor,
quiero cuidarles el corazon. "
4. Daddy's Little Girl- by Michael Buble
"You're the treasure I cherish, so sparkling and bright;
You were touched by the Holy and beautiful light.
Like angels that sing, a hea-ven-ly thing,
And you're daddy's little girl."
5. De Nina A Mujer- by Julio Iglesias
"Te extranaba yo tanto
que no alverte a mi lado
ya sonaba con volverte a ver
y entre tanto te estaba inventando
de nina a mujer"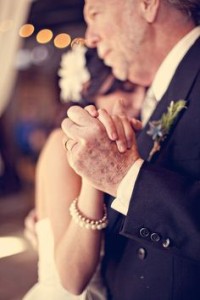 6. Daddy Dance With Me- by Krystal Keith
"Daddy dance with me
I want you to see the woman I've become.
Daddy don't let go
I want you to know I'll always need your love.
Today I became his wife
But I'll be your baby girl for life."
7. Mi Querido. Mi Viejo, Mi Amigo- by Roberto Carlos
"Tu pasado vive, presente,
las experiencias sentidas en tu corazón,
consciente de las cosas bellas de la vida,
tu sonrisa franca me anima,
tu consejo sabio me guía
abro el corazon y te digo"
8. My Little Girl- by Tim McGraw
"You're beautiful baby from the outside in.
Chase your dreams but always know the road that'll lead you home again.
Go on, take on this whole world.
But to me you know you'll always be, my little girl."

9. El Reloj- by Luis Miguel 
"Detén el tiempo en tus manos
haz esta noche perpetua
para que nunca se vaya de mí
para que nunca amanezca "

10. Today I Give My Daughter Away- by Dale Watson & His Lone Stars
"You know it's hard to let go of that little girl
Whose whole body used to sleep on my chest.
That lady's my baby and I hope he knows
She deserves only the best."