8 Things To Consider For A Destination Wedding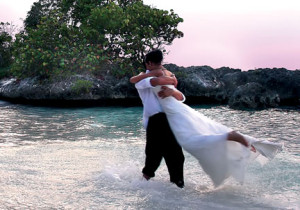 Getting married away from home provides an exotic and memorable adventure. Compared to a traditional wedding, a destination wedding may be less costly and more close-knit as it usually includes a small group of family and friends. Here are some things to consider when planning your dream destination wedding.
1. Hire a local wedding planner in the area that you plan to be married. A wedding planner offers helpful advice, gets you the best local deals, and knows the best vendors. Having a wedding planner means less stress but also less control.
2. Decide how family and friends will travel and where they will stay. Covering their travel and accommodation expenses will be more expensive but guests that have to plan all of these details on their own may have trouble finding affordable and satisfactory methods of transportation or places to stay.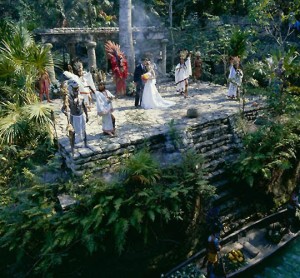 Xcaret-Mexico
3. Incorporate local cuisine and flowers at your wedding. Having your wedding in an exotic location is an once-in-a-lifetime opportunity so make sure to take advantage of that. Research popular dishes or flowers that are in season.
4. Find out if your hotel or resort offers wedding packages. These packages often take care of a lot of the planning for you and for one affordable price. If you book multiple hotel rooms, you might also receive a discount.
5. If you are getting married in a popular travel spot, choose to have your wedding during the off-season. This will provide you with lower costs for things such as transportation and you will have less difficulty booking vendors.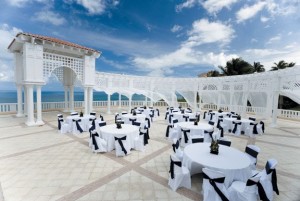 El Conquistador Resort & Spa-Puerto Rico
6. Contact the local city halls in the place that you will be having your wedding to find out all the requirements to get married. You will need an interpreter if you do now know the language of the region. To get married, you may need to have a certain number of witnesses, take blood tests, or have immunization certificates.
7. Look into destination wedding insurance. Wedding insurance will cover some of the expenses in case of severe weather, illness, or if an airline cancels flights.
8. Send your invitations out as soon as possible. By notifying your guests well in advance, they can plan accordingly because destination weddings often involve the couple celebrating for several days with family and friends. Guests will have to take time off to attend the wedding and travel to and from the wedding site.
Check out our Travel/Honeymoon specialists.
– By Lauren Ho