Get The Ideas: Kim Kardashian's Wedding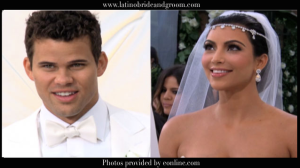 This weekend, reality show celebrity Kim Kardashian and basketball star Kris Humphries tied the knot at an extravagant estate in Montecito, California and we at Latino Bride & Groom couldn't be more excited!
Kardashian wore a strapless ivory Vera Wang dress as she walked down the aisle and accessorized with huge diamond drop earrings, a dazzling diamond drop headpiece, and a tulle veil. The bride incorporated her Armenian background into her wedding outfit with the diamond headpiece, not a common bridal accessory, surprising guests and America. An insider told Us Weekly that "[Kardashian] looked like an Armenian princess."
Ryan Seacrest, one of the 440 wedding guests, tweeted that Kardashian looked "regal". Other guests included Eva Longoria, Lindsay Lohan, Mario Lopez, Avril Lavigne, Julianna Hough, Ciara, and George Lopez. An unusual twist to the wedding attire was that Kardashian and Humphries set a black and white dress code for their guests. Kardashian's sisters Khloe, Kourtney, Kendall, and Kylie wore white Vera Wang dresses. Humphries's outfit consisted of a white tuxedo jacket, black tuxedo pants, a white shirt, and a white bow tie.
In contrast to her glamorous outfit, Kardashian kept her makeup relatively simple with pink lips, smoky eyes, full brows, and long lashes. We loved how she kept her makeup minimal and classic while still emphasizing her best features.
We love that Kim decided to keep some of her heritage in her special day; here are some ideas on how you too can add that Latino sabor into your wedding:
1. Wear mantilla veil
2. Use laso and arras during ceremony
3. Incorporate vivid colors in decoration
4. Instead of basic vases use talavera containers
5. Have tres leches cake and polvorones (mexican wedding cookies)
6. Get more tips in our latest issue of Latino Bride & Groom!
What are some of your ideas?
– By Lauren Ho