Get The Style: Your Wedding Day Hair
The hairstyle that you wear on your wedding day is just as important as the accessories that you put on to complement that hairstyle. Whether you want a carefree, elegant, or royal appearance, we'll tell you how to achieve the look that's right for you. Read on to find five hair ideas that will create the perfect wedding look!
1. Elegant Royalty. On your wedding day, you should be treated like royalty as well as look like royalty. To channel a regal princess, wear a tiara. A tiara will add instant glamour as well as timeless elegance. If you want the main focus to be your wedding dress wear your hair down and simple like Kate Middleton whose lace dress was stunning and unique. For an outdoor wedding, a tiara with flowers and leaves on it will match an open-air setting perfectly.
2. Cultural Princess. Nothing may be more important to you than to display your cultural heritage proudly to all of your guests. To accomplish this, a headpiece like the one Kim Kardashian wore on her wedding day, does the job effortlessly. Look at your mother's or grandmother's wedding photos to get ideas of how you want your headpiece to look like. Wearing flowers in your hair with a flower embroidered veil also looks traditional and beautiful.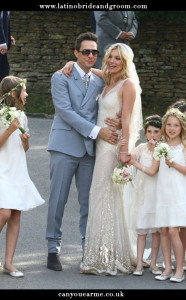 3. Carefree Chic. If you're not looking for an extravagant and posh wedding but rather a less formal and fun wedding, simplicity is key. A floor sweeping veil adds flair to your wedding but having tiny flowers embroidered on the veil and loose waves keeps the look sweet and simple. For example, at Kate Moss's wedding, the structure of her dress was simple but it was the added details to her outfit that made her stand out.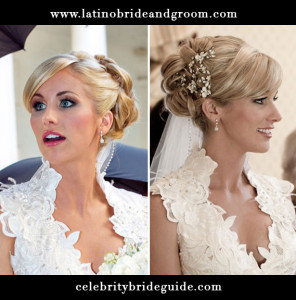 4. Upscale Updo. Candice Crawford's bun framed with a jeweled pin on her wedding day was great when paired with her high and floral designed collar. An updo with a pretty clip is sophisticated and, with a tall collar, elongates your neck to make it seem slimmer. Even if a hair accessory is small, it's an easy way to instantly look glamorous. If you want to emphasize a certain part of your body, your hairstyle can do that!
5. Country Style. A short wedding dress looks pretty with an uncomplicated headband like the one Miranda Lambert wore for her wedding. The netting on the headband made her look a classic leading lady. The country singer left her hair straight and natural. She added country flair by wearing white high heeled boots to match her white dress and headband. The result was that Lambert looked carefree and stylish.
Having trouble finding the right hair salon for you? Click here to check out our wedding hair specialists!
-By Lauren Ho