The Brighter The Better: Floral Décor for Your Fairytale Wedding
A beautiful wedding on a warm, sunny day is ideal. If that is what you are looking for then this spring is the perfect time for your wedding. What makes it an even better time is all of the flowers that are in bloom to add that special pop of color to your wedding.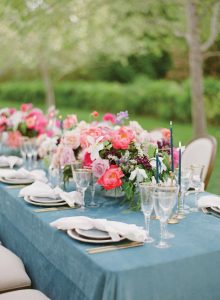 Liven Up Your Wedding Flowers With Color

Sticking to tradition is always safe but adding some extra color will make the wedding even more personal. If you want to stick to a more traditional wedding dress style, try something more daring for your floral arrangements. The Pantone Color of the Year for 2019 is Living Coral. The color was featured all throughout New York Fashion Week so consideration for it for your wedding would only make it that much more fashionable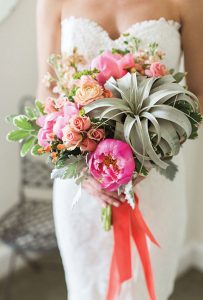 If Coral isn't your color, try adding a different pop of color. Bright colors are "in" this season and it would make your wedding stand out. Don't be afraid to play with colors. Some other trending colors include Aspen Gold, Pink Peacock and Sweet Lilac. If you want something more subtle or neutral try a Soybean or Sweet Corn color.
The Perfect Flower For Your Wedding
Imagine yourself walking down the aisle lined with arrangements of your favorite flower, maybe they will be peonies, dahlias, or even sunflowers, but just imagine all the beautiful bright color you will be seeing. All eyes will be on you as you make way down the aisle that you designed to your liking.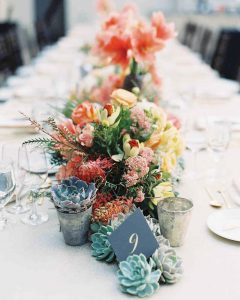 These flowers don't only add a color to your wedding, they also add on a much more special meaning. For example, the bright yellow sunflower symbolizes adoration, loyalty and longevity. You can add a subtle, pretty and pink peony that symbolizes honor, wealth and riches, and beauty in all forms. Dahlia's are known to symbolize commitment, changing in a positive way, and staying adventurous and relaxed.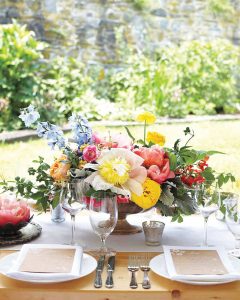 Another great addition of color to an all-white or cream hued arrangement would be with forget-me-nots. Forget-me-nots are small enough to add into your bouquet but bright enough to make a statement, and not to mention that if you go with the beautiful blue hue; you won't have to worry about your "something blue". A true princess moment, forget-me-nots were one of Princess Diana's favorite flowers!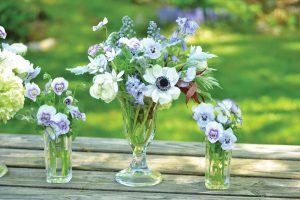 Adding this splash of color will look great for your bouquet, your centerpieces and even on your cake. The possibilities are endless! Another great thing about adding or using your favorite flower is that you can probably find it grown locally! What this means is that you will not only be supporting your surrounding communities, you will also be lessening your carbon footprint, how about that!
Floral Trends Seen In Celebrity Weddings

Your wedding could be just like royalty, Meghan Markle and Prince Harry's wedding had a dazzling large installment that introduced them as Mr. and Mrs. to the awaiting guests. Big installments, like literal walls of flowers, or wedding arches, are a huge trend in celebrity weddings, Priyanka Chopra and Nick Jonas had a beautiful wedding, well two main ceremonies, but their Christian ceremony turned heads.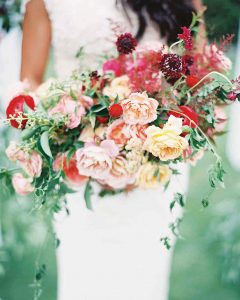 Priyanka and Nick had a beautiful wall of pink and white flowers as their backdrop at their outdoor wedding as they read their vows. Kim Kardashian also had a beautiful installment at her wedding!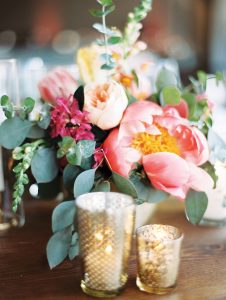 Your floral arrangements make a big statement as it is; now make them make a special moment even more unforgettable by adding the fluorescent colors a lot of flowers will bring into the ambience. Whether it is a subtle pink or a bright yellow, the colors will add a pleasant and alluring impression.
– By Sandra Reyes