Get The Ideas: Spring Wedding Flower Trends
Spring is in full bloom and flowers are ready to be made into flower arrangements and bouquets! With these various spring flowers you can achieve your perfect wedding look, whether you are going for soft and subtle, bright and energetic, or sophisticated and luxurious. Here are 5 floral trends that we have spotted this spring.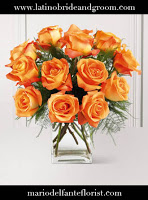 1. Tangerine Tango – Proclaimed as Color of the Year by Pantone, incorporate this hot color into your wedding arrangements. You can choose to use this color in subtle details, such as the ribbon around your bouquet, or go bold with a bouquet of all tangerine-colored blooms. Like the centerpiece by Mario Del Fante Florist, tangerine-colored flowers brighten up a plain bowl or clear vase so you don't have to worry about buying extravagant containers for your flowers.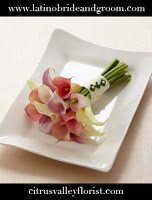 2. Pretty Pastels – A color scheme that is becoming increasingly popular this season is the combination of various pastels. Soft and feminine, pastels are perfect for an outdoor wedding as the colors will create a beautiful contrast against the green grass and be illuminated by the bright sunshine! A bouquet of pastel cala lilies like the one from Citrus Valley Florist is a simple yet sophisticated bouquet tied together with an ivory ribbon.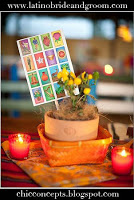 3. Cultural Incorporations – Be proud of your heritage by integrating aspects of your culture into your wedding flowers. Hang flowers over candelabras for an elegant display and keep in mind that group of colorful flowers stands out against a white color scheme. Another idea is to glue loteria cards on colorful pots for one-of-a-kind containers. The cards will create a festive and fun presentation that is sure to delight family and friends.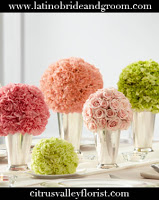 4. Colorful Clusters – Another trend that we are seeing this spring is the appearance of floral spheres. They can be hung from ceilings or doors to welcome guests into your venue or they can be placed on vases for a modern approach to the traditional flower centerpiece. Experiment with floral clusters of different sizes and flowers but make sure that the flowers of each sphere are the same color to keep it from looking too uncoordinated.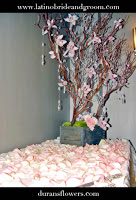 5. Lively Centerpieces – Let your reception centerpieces take center stage with eye-catching and unique arrangements. Rather than a bouquet of just flowers, consider plants or small trees. Find a nice balance like the display from Duran's Flowers in which a miniature tree is surrounded by flower petals. Added decorations to your centerpieces make them more attention-grabbing. Plants are great centerpieces and budget-friendly.
So, what is your favorite bridal flower trend? Check out our flower gallery for more ideas. And don't miss our Florist Vendors for a florist near you.
-By Lauren Ho