Wedding Dress Ideas: Red Carpet Trends
The 84th Oscar Academy Awards was buzzing with much attention over not only award nominations but also the fashion on the red carpet. The event displayed Hollywood's finest as they came dressed in the best and we're here with four of our favorite trends. Incorporate these ideas into your wedding style and you'll be sure to make an entrance down the aisle.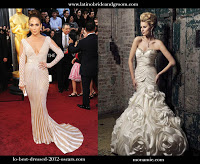 1. Intricate Design – Jennifer Lopez looked stunning in a sheer linear design dress with shimmer details. Her dress, shining in the sunlight, stole the spotlight on the red carpet. Classic diamond earrings elevated the elegance of the outfit while her simple hairstyle did not distract from her dress. If wearing an attention-grabbing and elaborate wedding dress, select only one complementing accessory. Keep it simple as the main focus should be your dress.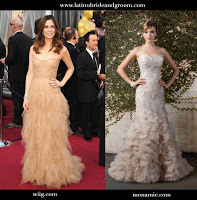 2. Cream Layers – Also on the list of our best dressed is Kristin Wiig from Bridesmaids the movie who looked lovely in a cream-colored dress with feminine and delicate layers. The bottom layers coupled with a simple bodice is perfect for showing off your toned arms and the upper-half of your body. While we adore Wiig, we recommend taking on a more put together appearance for your wedding with delicate jewelry and a classic chignon bun. Experiment with cream- or blush-colored dresses for a subtle way to gravitate away from traditional white.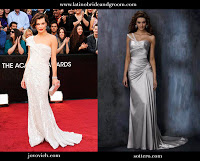 3. Rouge and White – Take charge on your special day with this modern take of a bride based on Milla Jovovich's Oscar's outfit. Wear a pristine white dress and then swipe on a deep red lipstick for a contrast that is seductive and powerful. Bold lipstick will give you confidence but just make sure that it stays in place after you kiss the groom. Putting on a lip stain before you wear your lipstick will make the color last longer. Dangling diamond earrings are the perfect jewelry to complete your look.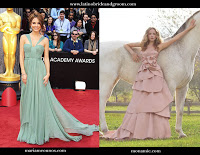 4. Muted Elegance – If you want something more daring than a white wedding dress, search for a color similar to Maria Menounos's gown. Unique but not too bright and clashing, pastel gowns are a welcome appearance, especially during spring weddings. Glam up a pastel or pale-colored dress with dazzling accessories or smoky eye makeup. The delicate layers and soft fabric of Menounos's dress gives off a feminine and gentle image which she balances with modern chandelier earrings and a jeweled bracelet. Don't be afraid to try new styles and mix them together!
Which look is your favorite? Check out our bridal gown gallery for more ideas.
-By Lauren Ho