Tip For Picture Perfect Bridesmaid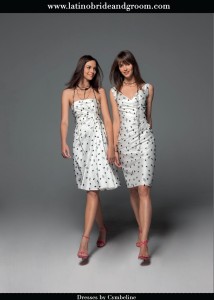 Bridesmaid dresses have the reputation for being unflattering and cumbersome but we at Latino Bride & Groom have discovered the solution to prevent these wedding mishaps. One suggestion and the latest trend for choosing bridesmaids' dresses is to have your bridesmaids pick their own dress style according to your wedding color palette. This contemporary approach is the smartest decision a bride can ever make, as your bridesmaids know best the styles that flatter them. Here are five tips to ensure that your bridesmaids look picture-perfect:
1. Compromise. Often times, bridesmaids buy their dresses so let them have some fashion freedom by choosing the dress that they like the best but don't be afraid to make some suggestions of your own. After all, it is your wedding and it's still appropriate for you to give your bridesmaids advice. The same dress will not look the same on every woman, as there are many different body types so by compromising between you and your bridesmaids, you can decide on a dress that leaves both parties satisfied.
2. Research outfits and styles. Ask your bridesmaids to research outfits and styles that they like. In addition, you should research what dresses you like. A great place to start is with our bridesmaid fashion section in every issue of Latino Bride & Groom magazine and with our bridal store vendors. See below for a link to see some great new bridesmaid looks and sort through your favorites before taking them dress shopping. Researching will give you ideas about what dresses would be the most suitable for your bridesmaids and can shorten the time that it takes to pick the bridesmaid dresses.
3. Consider the time and place. Keep in mind the type of wedding that you are having and the wedding venue. For example, a short dress is more fitting for a summer wedding at the beach than a winter wedding in a large church as it is casual and won't be soiled when walking in the sand. A dress that touches the floor is more elegant and formal. Remember that the bridesmaid dress should not only complement the bridesmaid but also the wedding.
4. Have a dress up party. Plan to meet your bridal party at your favorite bridal store and stage a fun fashion show. Have them try on different styles and everyone can help each other choose the perfect dress for their body type. Keep the event fun and energetic by playing music but make sure that you get permission from the salespeople and aren't disturbing other shoppers. Encourage your girls to strut down the aisle and model for their fellow bridesmaids.
5. Buy dresses early. Don't wait until it's too late to go shopping for bridesmaid dresses. Buy the bridesmaid dresses at least one month before the wedding as this will give you time to make alterations so that the dresses fit perfectly. One month is the perfect time to purchase the dresses because it is early enough to make changes to the dresses but not too early that your bridesmaids change and don't fit it perfectly anymore. We often want to lose weight before a wedding so a dress bought several months before the wedding may be too loose once the big day comes.
– By Lauren Ho