Your Distinctive­ Las Vegas Wedding
We have compiled a list of top Las Vegas wedding venues, along with handy information to help you pick the best place that fits your wedding needs and wants.
1. Carson Kitchen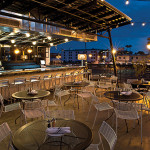 Capacity: Up to 60
Type of Wedding: Hipster Chic
Special Features: This Urban restaurant offers an outdoor patio ideal for an intimate wedding and for a couple that wants to experience Las Vegas' "new hip area" and enjoy southern comfort food at a valuable price.
Pros: Intimate, Personal Ceremony/Rehearsal Dinner/Engagement Party
Cons: Restaurant downstairs/Limited Catering Staff
2. Aria Salon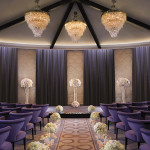 Capacity: Up to 10,000
Type of Wedding: Modern Elegant
Special Features: With different packages available, you can choose from four different chapels, new and remodeled locations that will leave your guest in awe.
Pros: Packages include catering, personalized floral, video and pictures for your entire guest to enjoy.
Cons: You are restricted to choosing a package.
3. Bellagio Terraza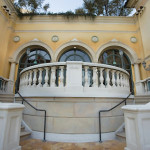 Capacity: Up to 10,000
Type of Wedding: Elegant Traditional
Special Features: Bellagio offers six different halls that meet your needs. You can choose from big to small.
Pros: You wont have to worry about decoration, or event planning as they do everything from catering, to serving, photography and etc.
Cons: It follows only a traditional decoration for every ballroom, not a lot of uniqueness.
4. Venetian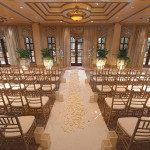 Capacity: Up to 2,000
Type of Wedding: Romantic Traditional
Special Features: From the intricate detail of the ballroom walls, the soft colors of the carpet, to the elegant lighting of the chandeliers, you'll be celebrating in elegant ballrooms that accommodate any size party.
Pros: You can choose from any restaurant within the Venetian to cater your event, personalize florist and photographers are also available.
Cons: The cancelation policy are fairly strict, your 50% deposit won't be refundable.
5. The Cosmopolitan Wedding Suite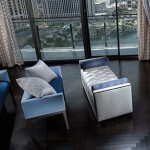 Capacity: 40
Type of Wedding: Ultra Chic
Special Features: Uniquely designed Wedding Suite puts an original twist on the classic ceremony. Purposefully designed without the traditional aisle and ceremony seating, guests stand in awe as vows are exchanged either in-suite or on the private wraparound terrace overlooking the heart of the strip.
Pros: A very intimate wedding and non-traditional, staff will plan activities such as mixology lessons rather that the normal reception with dinner.
Cons: Not a big space, very intimate and few packages to choose from.
6. The Wedding Salon in the Wynn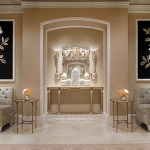 Capacity: up to 2000
Type of Wedding: Elegant Traditional
Special Features: The Wedding Salons at Wynn Las Vegas offer an elegant setting for you to commit to the one you love. Their teams of wedding experts are available to assist with all of the details so you can enjoy the day.
Pros: There are many entertainment clubs to go enjoy for the days leading up to the wedding as well as spas.
Cons: Few reception halls to choose from.
7. Joel Robuchon in MGM Grand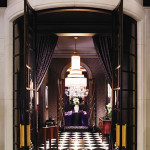 Capacity: 40
Type of Wedding: Ultra Chic
Special Features: For a wedding that is unmatched in sophistication, go for the absolute best. The best at MGM Grand means Forbes Five-Star, AAA Five-Diamond, Three Michelin starred cuisine from the Chef of the Century, Joel Robuchon.
Pros: You can plan your wedding ceremony as well as a private and intimate reception for you and your guests to enjoy fine dining and drinking.
Cons: Small venue and it does not provide wedding packages that include florists and photographers.
8. High Roller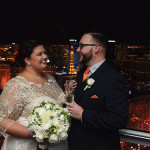 Capacity: Up to 40
Type of Wedding: Non-Traditional
Special Features: Las Vegas newest hot spot, the high roller, gives you the opportunity to get married 550 feet in the air, with an intimate wedding, VIP bartender and in a personalized cube just for you and your guest.
Pros: A new way to get married in Las Vegas, you would be saying "yes" with spectacular views in the background.
Cons: Ceremony only last 30 minutes since it's only a 30 Minute ride.
9. Estiatorio Milos in The Cosmopolitan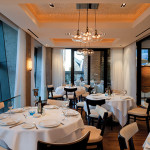 Capacity: Up to 75
Type of Wedding: Intimate Chic
Special Features: The stylish ambience of this glass-enclosed space is complemented by elegant lanterns and features a unique misting system with individual and private dining options. With seating up to 75, it's perfect for small private celebrations and rehearsal dinners, and can enhance any dining experience with breathtaking views of Las Vegas.
Pros: You can create a special menu to celebrate your reception at this fine Greek restaurant.
Cons: It is a very small venue, and doesn't have wedding packages that include florists and photographers.
10. Giada in The Cromwell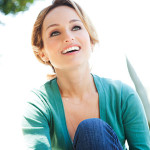 Capacity: Up to 260
Type of Wedding: Intimate Elegant
Special Features: Italian food lovers can rejoice: celebrity chef Giada De Laurentiis has opened her first-ever restaurant. Private room/section available, along with the only restaurant in the strip with electrical windows that open and provides you the enjoyment of the strip.
Pros: A very intimate dining experience where the restaurant provides everything that your guests will need.
Cons: It does not provide a wedding package with personal florist or photographer.
-By Verónica Guevara
For an overall Las Vegas experience, you can have your Bachelor/Bachelorette party here and your Honeymoon as well.