Get The Ideas: Evette Rios' Wedding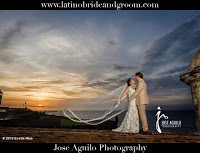 Watch out for Evette Rios' wedding feature in our next issue! Known for her appearance as a TV correspondent on "The Chew" on ABC, this modern day Martha Stewart celebrated her wedding at Viejo San Juan, Puerto Rico. Latino Bride and Groom magazine will share her story and expertise with you, from her love for the environment to her love for decorating.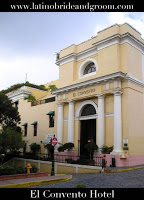 When the time came to start planning the wedding, Puerto Rico was the obvious first choice for Evette, who wanted to bring the party to her grandmother, who had a fear of flying in airplanes. Evette chose the beautiful and rustic El Convento and threw a "semi-destination wedding." Opting out of a traditional honeymoon, Evette invited her friends to join her new husband Steven Davis and her to explore Puerto Rico, keeping her loved ones a part of her special event.
Evette wanted to incorporate her love for her heritage in her wedding, yet also include Stephen's heritage and family. Evette took several steps to make sure that their two cultures blended together, such as keeping the invites and wedding programs bilingual. She chose Viejo San Juan both for its beauty and the fact that it was a historic tourist destination, making it easy for her guests to navigate around. Making their food selection a buffet also ensured that a variety of foods would be available to guests, giving the people options rather than a sit down dinner where some ethnic foods might turn out to be too spicy. For Evette, it was important to make sure that both sides of the family felt accommodated and equal.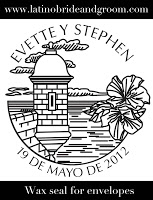 Find out the creative ideas and solutions Evette had, such as her eco-friendly wedding, using materials that she could recycle or reuse and always being consciousness about where her items came from, such as keeping foods local. When choosing the dress, Evette also kept in mind the factors that dealt with practicality, such as being lightweight, packs well, and costs less than one week's salary. Evette took into account that the ceremony temperature could reach 95 degrees, and chose a dress that would be loose and airy.
Make sure and get our fall issue to read more about Evette and Stephen's wedding, from how she met her husband to tips on having a destination wedding and how to personalize it for both you and your guests!
– By Jenny Lu