Gorgeous Floral Ideas for Your Wedding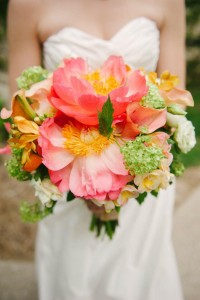 Since the days of ancient Egypt, bouquets have been used as wedding décor around the world to symbolize traditional values like spirituality, happiness, and lasting love. Your wedding's floral scheme is immensely important for setting the right mood and ambience, and with the many gorgeous flower trends to choose from this season, there's no reason you can't make your special day look just as magical as it feels.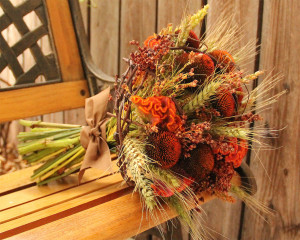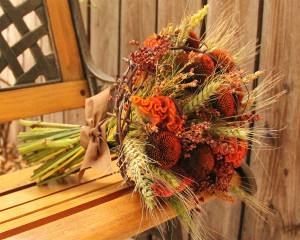 Woodsy and Organic
This year, the rustic beauty of fall is perfectly captured by softly muted earth tones like pumpkin, russet, gold, warm peach, and oak. Many brides this season are infusing a bit of autumnal whimsy into their décor by spicing up organic-textured bouquets with twigs, glittered pinecones, dark leaves, lotus pods, and wheat berries, even fruit gourds and artichokes! Dahlias, asters, marigolds, and zinnias are perfect for the fall season, and large flowers (think mums, calla lilies, and hydrangeas) scooped up in a loose, slightly unstructured bouquet is also very in. For colder months, snow white blooms punctuated by deep red ones are a classic look brides are bringing back to encapsulate the wintry glamour of Christmas-time. Combine white petal gardenias, Star of Bethlehems, or narcissuses with red, wintertime blossoms like tulips, camellia, or sweet pea. A few sprigs of holly or an Evergreen wreath instead of the traditional bouquet are also popular.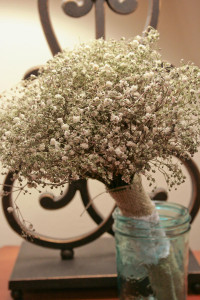 Non-Seasonal Themes
But don't feel the need to stick to traditional seasonal themes for your wedding. One trend we're noticing is an all-white floral scheme with one or two bright pops of color, like violet or indigo. A bouquet of timeless white roses looks stunning when arranged in an ombre gradient that fades to light, and then deep pink (pale tangerine works well, too). Light sprays of baby's breath in white or light pink are a nice fresh touch. Weave them together with white roses and understated ribbons to create a centerpiece that is airy and simple yet intensely elegant. Pin or tuck them into your hair, or pile a few sprays into a sachet and tie at the back of the guests' chairs.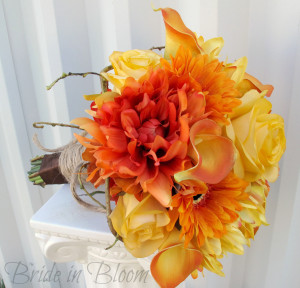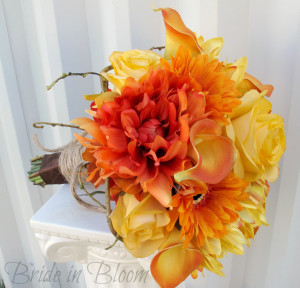 A Few Pointers
Once you've figured out your floral scheme, run through your wedding design plans with your florist. "You want everything to coordinate," says Ana Sandoval of Candelaria's Flowers, an appointment-only studio in Dallas, who suggests planning on spending an hour with your florist for your initial consultation. Bring in pictures and magazine clippings to give the florist an idea of what flowers you want to use for your bouquet—that way, they can respond with which flowers compliment your overall wedding design, and which don't. Creating a series of floral designs that not only harmonize with your vision but remain within your budget can be rather time consuming, so make sure you prepare well in advance. Says Garcia, "Three to six months is usually recommended."
Whether you decide to embrace the warm, dusky fruits of the harvest or create a wonderland of delicate baby's breath, flowers have the power to infuse your wedding with all the joy, wonder, and excitement you feel on your special day. Communicate your desired floral designs to all who help plan the event. That way, everyone can keep in mind the exact mood and emotions you want your bouquet and centerpieces to evoke.
Get inspired and check out our Flower Gallery!
-By Kaitlyn Fajilan
Links:
Flower Gallery: http://www.latinobrideandgroom.com/flower-gallery/