Wedding Vendor Spotlight: Noor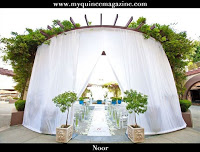 Are you looking for a unique and upscale place for your upcoming wedding? Noor situated in the historic downtown Pasadena could be just the place for you! With their two gorgeous indoor ballrooms along with two outdoor spaces, you will surely find the ideal spot for your special day.
Awarded Pasadena Weekly's Best Wedding Location & Banquet Hall for 2012, Noor is a boutique wedding venue, perfect for a wedding with 200 to 1,500 guests. Noor features four different ballrooms, from the Ella Ballroom with its art deco design, reminiscent of old Hollywood can hold up to 130 guests, and the Sofia Ballroom, with an art nouveau inspired interior design space for up to 330 guests and with its large outdoor balcony provides a fantastic view of the city and the San Gabriel Mountains. Their outdoor ballrooms are Noor Terrace, a beautiful courtyard that provides a beautiful canvas for ceremonies, and Noor Promenade a suitable setting for an extravagant event that can hold up to 1,500 guests! With a full range of planning services, such as custom menus, theme décor, entertainment, and valet, Noor makes sure that you are well taken care of for your wedding day.
For the most discerning of couples that seek elegance, glamor, and exclusivity, Noor offers a prestigious backdrop to your joyous wedding ceremony, reception, and celebration. Whether planning an intimate gathering or a lavish gala, their professional team of planners will take care of every last detail. Call them today to schedule an appointment for a tour of their facility or to talk to a wedding specialist about your big day: (626) 793-4518.
-By Veronica Guevara
260 E. Colorado Blvd. Suite A209
Pasadena, CA 91101
(626) 793-4518
[slideshow_deploy id='1231′]