Wedding Vendor Spotlight: The Hilton Pasadena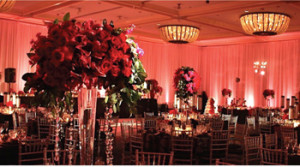 The Perfect Blend of Luxury, Sophistication, and Elegance
For couples seeking out an exquisite venue, the Hilton Pasadena hotel, which is only a mere 9 miles from the heart of downtown L.A., offers three beautiful ballrooms for your perfect event. This dreamy venue features four separate rooms and high, stately ceilings. Not only will the Hilton Pasadena provide a spectacular setting with its three spacious ballrooms, but also will provide a service team that ensures your day will be memorable with its exceptional service, delectable menus, and personal touch to accommodate all your wedding needs.
The Hilton Pasadena offers four spacious ballrooms, each with a different ambience to suit your taste: the International, California, and San Gabriel. The International Ballroom is 7,600 square feet and can accommodate up to 500 guests. This ballroom showcases 6 crystal chandeliers and a creamy color palette. The California Ballroom features 4,160 square feet and can seat 250 guests and houses contemporary chandeliers and neutral tones for a modern feel. The San Gabriel Ballroom is 2,806 square feet and can accommodate 150 guests. It offers an outdoor patio and floor to ceiling windows adorned with a beautiful fabric backdrop that showcases its traditional design. Lastly, the intimate Pacific Ballroom is perfect for parties with up to 120 guests with three chandeliers and is perfect for any wedding reception.
The Hilton Pasadena provides a remarkable place to host your wedding. For couples that want an extraordinary day to remember, their staff surpasses expectations for all your ceremony and reception needs. Plan your big event today: (626) 577-1000.
– By Bonnie Wong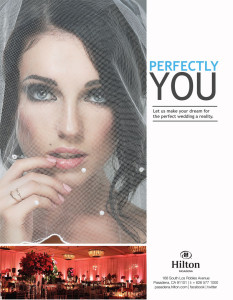 Hilton Pasadena
168 South Los Robles Ave.
Pasadena, CA 91101
(626) 557-1000